PORTABELLA Pleasures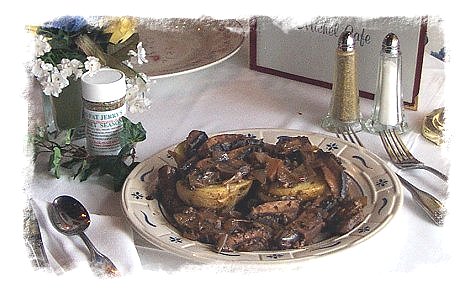 8 to 16 oz. sliced PORTABELLA mushrooms
3 TBSP. ginger or honey teriyaki sauce
1 to 2 TBSP. roasted garlic, chopped
1 medium sweet onion, chopped
1 TBSP. butter
1 TBSP. BFJ's Gourmet Seasoning
Cabernet Sauvignon or burgundy wine
In a 3 quart saucepan with lid, pour in the teriyaki sauce, the chopped
roasted garlic, sweet onion, butter and Big Fat Jerry's Gourmet Seasoning.
Cook on medium to medium low, stirring occasionally until onion cooks down .
Add the mushrooms, a little more BFJGS, and a dash of your favorite wine.
Cover and simmer for 20 minutes, stirring once or twice until done.
Makes a nice side dish or topping for steak.