BFJ's Seasoning started as a need for adding a little bit of flare to my home cooking.

Through the last ten years, I have mixed and blended herbs and spices until I found the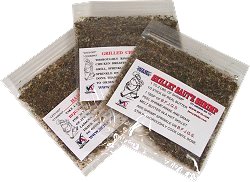 right mix which became BFJ's Seasoning. BFJS goes good on just about anything. It also makes an excellent Veggie Dip. (see recipe)

You name it, it's good on it! If you like eggs, beef, chicken, pork, fish, turkey, duck, wild game, peas, beans, mushrooms, onions, carrots, cottage cheese pasta, shrimp, peas, beans, sandwiches, corn on the cob, or any other meat or veggie dish you can think of, Big Fat Jerry's Gourmet Seasoning will make it that much tastier. I guarantee it or your money back.


Based on the quality of this product, BFJ's Seasoning has been awarded the Virginia's Finest Trademark seal of approval. This trademark certifies that what you are about to buy is grown, produced, or processed right here in Virginia and meets the highest quality standards set by industry and approved by the Virginia Department of Agriculture and Consumer Services.
Looking forward to serving you,



Owner/Creator
& Family Chef