Welcome

Recipes

About Us

Order

Club Car Gift Baskets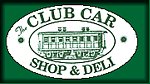 Welcome to the Club Car in Clifton Forge Virginia.
The Club Car - Shop & Deli, located in the historic railroad community of Clifton Forge Virginia, could be considered a " Diamond In The Rough". The Club Car is a deli style cafe with only the finest Boars Head meats and cheeses, scrumptious salads, and "just like Mom's homemade soups". Satisfy your appetite then browse our sophisticated gift shop stocked with an array of unique items, memorabilia from our rich railroad heritage and a "casual class" like no other! We invite you to experience the ambiance of a "big city" specialty shop located in a small, friendly town.

The Club Car caters to every walk of life , featuring fine wines for the connoisseur as well as less trained palates. Select from specialty kitchen items, extraordinary gift ideas and an elegant variety of " Colonial at Home" candles and accessories that are sure to add charm and warmth to any home.

On occasions when time is short, let our staff prepare one of our famous Deli Trays, Food Towers, or assorted bake goods to express a wide range of sentiments including "Thanks", "Get Well Soon", and "With Deepest Sympathy".
We hope you will enjoy browsing our gift basket selections. And we look forward to serving you the next time you're in historic Clifton Forge.
Club Car Tea Party $24.99 2.8 oz Tin of Republic of Tea (50ct. Package )
5 oz Stewart's Kitchen Flavored Biscotti
1.4 oz Walker's Butter Shortbread
4.5 oz Republic of Tea Jam
2 Ghiraidelli Chocolate Squares
Sugar Free Gourmet $29.99
3.5 Asher's Sugar Free Milk and Dark Chocolate
4 oz Hub's Peanuts
6 oz Kornfections Sugar Free Flavored Popcorn
3 oz Guylian Sugar Free Milk Chocolate Bar
Dip Stick Pretzel With Gourmet Mustard
4 oz Go Lightly - Fat Free / Sugar Free Hard Candy.
Sugar and Spice (Girl) Snips and Snails (Boy) $35.99

6 oz Stewart's Kitchen Chocolate Chip Cookies
6.3 oz Virginia Sparkling Cider
4 oz Hub's Peanuts
Silver Plate Baby Spoon
Pewter Horse Picture Frame
Soft Spot Stuffed Animal
Ceramic Tooth Container
4 oz Kornfections Flavored Popcorn.

Stainless Steel Colander
8 oz Pasta Valento Flavored Pasta
16 oz Pasta Valento Flavored Sauce
5 oz Diana's Flavored Olive Oil
Colonial At Home Fragrant Candle
Club Car Coffee Pack
2 Ghiraidelli Chocolates.

Tea For Two $15.99

2 oz Republic of Tea Cookies
.36 oz Tin of Republic Tea ( 6 Bags)
4.5 oz Republic of Tea Jam
2 Ghiraidelli Chocolates

Big Fat Jerry's Gourmet Basket $22.99

Wicker Chef Basket
5 oz Diana's Flavored Olive Oil.
Whisk ( Small )
1.25 oz Big Fat Jerry's Gourmet Seasoning
.8 oz Big Fat Jerry's Gourmet Veggie and Chip Dip Packet
Recipe Sheet
To Order Call, Write, or Email:
The Club Car Shop & Deli - 525 Main St. - Clifton Forge, VA 24422
Phone: 540-862-0777 - Fax: 540-862-0727